Eco School
Electric Vehicles and GoCompare

GoCompare are addressing pollution concerns around schools by championing a switch to electric vehicles. Understanding that cost is a major factor for many parents.

They've developed a Cost-to-Charge Tool to illuminate the affordability of charging EVs at home to encourage more parents and families to switch at https://www.gocompare.com/motoring/electric-cars/cost-to-charge/
__________________________________________________________________________
World Environment Day
World Environment Day, led by the United Nations Environment Programme (UNEP), is held annually on 5th June. The first World Environment Day was launched in 1973, making this year its 50th anniversary. The aim of Environment Day is to raise awareness and encourage, as many people as possible, action for the protection of the environment. The more people there are, the bigger the voice.
This year, the theme is 'Solutions to Plastic Pollution' (#BeatPlasticPollution). A new report from the UNEP has announced that countries could cut plastic pollution by 80% in fewer than 20 years. The last few decades have seen plastic production levels increase dramatically, especially single-use plastic, and waste management systems are struggling to cope. The report offers a plan of action for governments and businesses to significantly cut levels of plastic pollution.
Let's play our part by thinking about our own use of packaging and how often we recycle. For example, instead of using cling-film (single-use plastic) could we use plastic containers or paper food wrappers. Recycling or reusing are two ways we can help reduce the amount of rubbish sent to landfill. This will help us care for and protect our environment. Let's ring a small change to make a difference.
________________________________________________________________________
Sustainability at St Swithun's
Claire Gilbert, one of our parents who is Carbon Literacy trained, has been kindly working with us on our approach to sustainability in school. Below is the two-part blog on what we have achieved so far ...
https://www.orielsquare.co.uk/empowering-children-to-look-after-our-planet-my-journey-supporting-st-swithuns-primary-school-on-its-sustainability-journey-september-2022-april-2023/
https://www.orielsquare.co.uk/a-whole-school-approach-to-sustainability-my-journey-supporting-st-swithuns-primary-school-on-its-sustainability-journey-september-2022-april-2023/
_________________________________________________________________________
Exciting news! School Council have been successful in
achieving an Eco-Award for our school.

Congratulations

to the School Council for all their hard work. Comments from the adjudicators set out below:
'We like how the Eco-Committee members communicate with each other and to internal and external stakeholders through using a variety of methods including reporting back to classes and through assemblies. You also use your lovely colourful and eye-catching Eco-Board and the school website.
The Environmental Review clearly highlighted areas that you needed to improve on and it is great that your overall approach generated ideas for changes that you could make, as this demonstrates a reflective and considered approach to your Eco-Schools work. It was great to hear that the Eco-Committee members made a presentation to the whole school about the Environmental Review and then the action plan too. These are great skills that we could all learn from! You've clearly taken efforts to connect your energy, waste and marine projects happening across the school and embedding work into curriculum and everyday school life in a really impactful way. This is really inspiring and clever.
We also thought your Eco-Code was fun and inclusive! It was punchy and creative, setting out tangible and accessible calls to action your whole school can get behind, and especially loved your use of 'ECO WORLD' as a mnemonic device!
Your application made us feel really positive for the future! Your achievements this year have been wonderful! For example, your school has run a 'Walk to School' initiative aimed at reducing your carbon footprint. Your school has recently installed a new boiler resulting in a reduction in your energy use as it is more efficient! We are really impressed at your efforts raising the profile of the environment within your school and getting the children involved in making changes particularly with outside providers. This all truly makes the Eco-Schools initiative an integral part of your school life. Congratulations to everyone for the great work you have managed to do. You should all be very proud of your amazing work and the great application you have submitted. You've really earned your Green Flag Bronze Award accreditation!'
__________________________________________________________________________
Eco Tip of the Week - 24th April 2023
__________________________________________________________________________
Eco Tip of the Week - 27th March 2023
__________________________________________________________________________
Eco Tip of the Week - 20th March 2023
__________________________________________________________________________
Eco Tip of the Week - 13th March 2023
_________________________________________________________________________
Eco Tip of the Week - 6th March 2023
_________________________________________________________________________
Eco Tip of the Week - 27th Feb 2023
_________________________________________________________________________
Eco Tip of the Week - 6th Feb 2023
_________________________________________________________________________
Eco Tip of the Week - 30th Jan 2023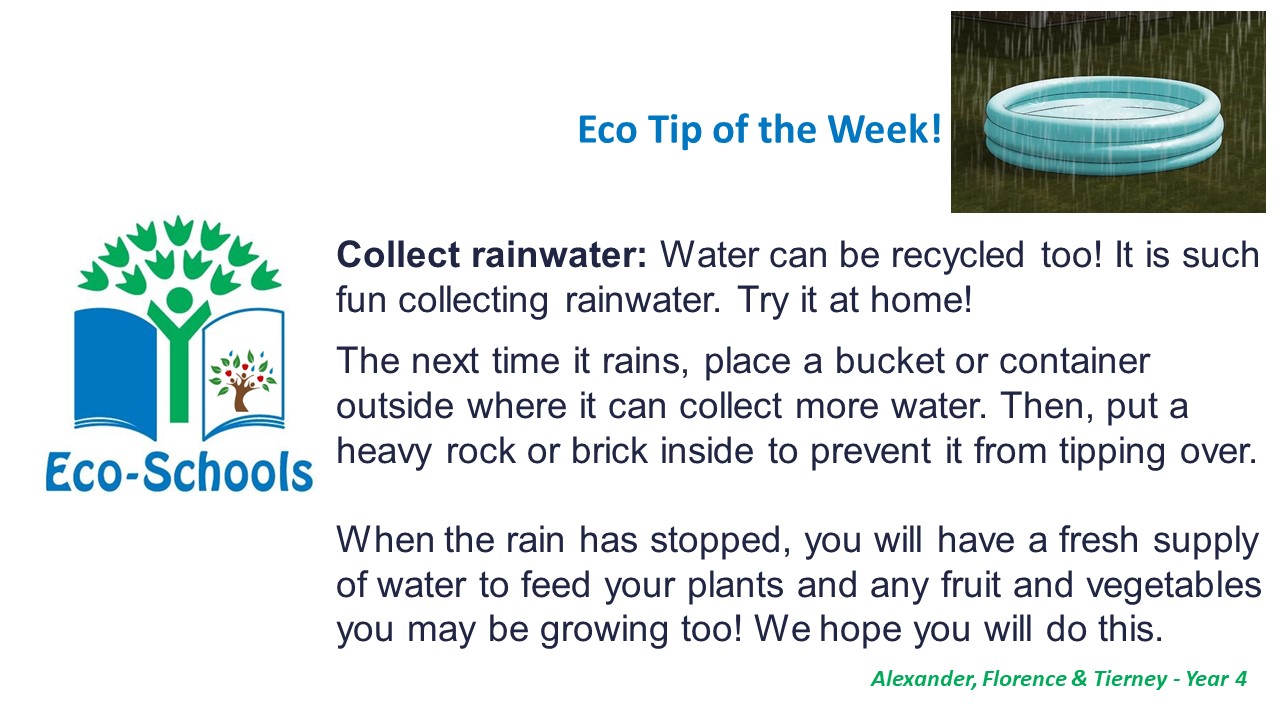 _________________________________________________________________________
Eco Tip of the Week - 24th Jan 2023
_________________________________________________________________________
Eco Tip of the Week - 17th Jan 2023